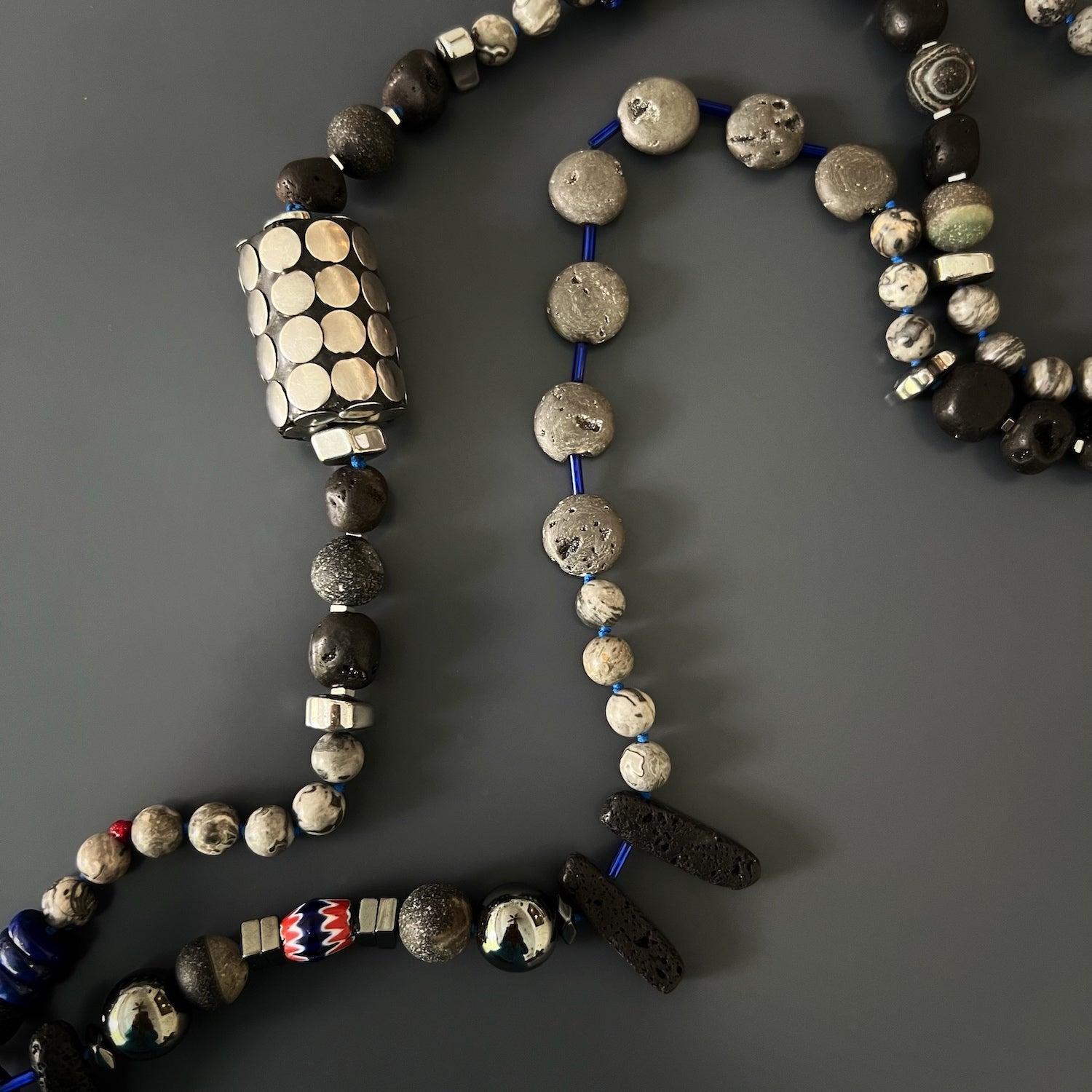 Tibetan Agate Om Beaded Necklace
The Tibetan Agate Om Beaded Necklace is a stunning piece of handmade jewelry that combines various natural materials to create a unique and stylish accessory. These beads are strung together to create a colorful and textured look that is both intricate and elegant. The grey jasper stone beads are believed to have grounding and stabilizing properties, while the lapis lazuli stone beads are said to promote inner peace and wisdom. The black frosted druzy agate beads and natural grey hematite beads add a touch of sophistication and texture to the necklace.
The centerpiece of the necklace is a beautiful Nepal silver, lapis lazuli, and red coral OM pendant. The OM symbol is considered sacred in Hinduism and Buddhism, and it represents the sound of the universe and the connection between all things. The pendant adds a touch of spirituality and meaning to the overall design.
It is perfect for those who appreciate the natural beauty of stones and beads and want to add a touch of spirituality to their wardrobe. This handmade necklace is a great gift idea for anyone who loves unique and meaningful jewelry that reflects their individuality and personality.
I personally hand craft each piece, making them one of a kind and meaningful...Each piece is unique like we all are..
Details;   
8mm Grey Jasper Stone Beads

Flat Grey, Frosted Druzy Agate Stone Beads

Rondella  Blue Lapis Lazuli Stone Beads

12mm Black Frosted Druzy Agate Beads
Natural Grey Hematite Beads
Flat Lava Rock Stone Beads
Blue Color Tube Crystal Beads
Handmade Dark Blue & Red African Bead
Silver & Black Large Nepal Bead
Blue Crystal Flat Beads
Nepal Silver, Lapis Lazuli and Red Coral OM Pendant
Necklace length 44''
Pendant height 1.5'' width 1.5''
Handmade in the USA
Every Ebru Jewelry purchase will arrive wrapped in a gift box
Share