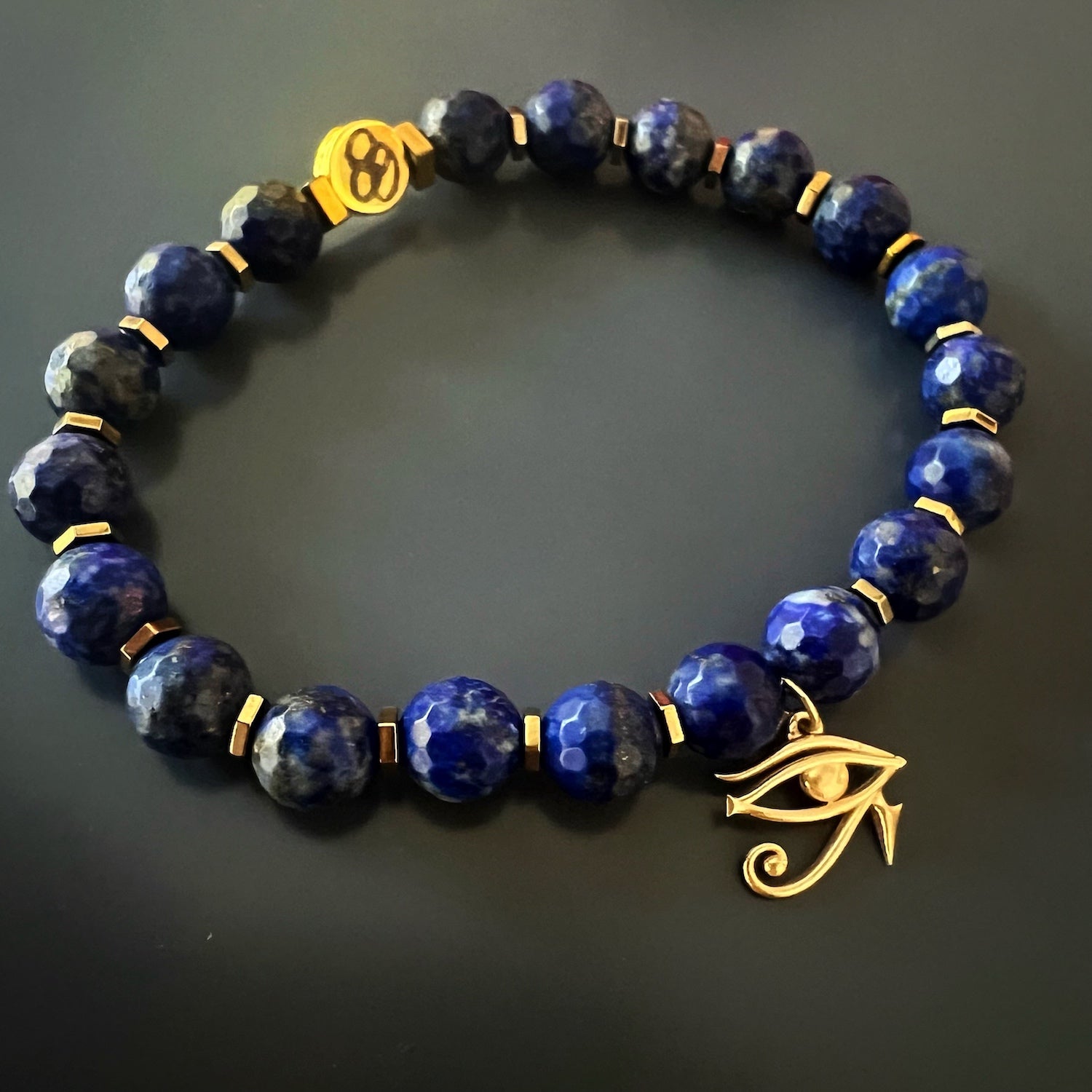 Solid Gold Eye Of Ra Spiritual Beaded Bracelet
The Solid Gold Eye Of Ra Spiritual Beaded Bracelet, a magnificent handmade piece that combines the allure of lapis lazuli stones with the timeless elegance of solid gold. This bracelet exudes a harmonious fusion of spirituality, style, and luxury, making it an exceptional accessory for those seeking a deeper connection with ancient symbolism.
At the focal point of this mesmerizing bracelet, you'll find a stunning 14K solid gold Eye of Ra charm. This symbol, reminiscent of the ancient Egyptian god Ra, represents protection, clarity, and divine insight.
The bracelet features a collection of 8mm lapis lazuli stone beads, meticulously handpicked for their rich deep blue color, natural patterns, and inherent spiritual properties. Lapis lazuli has long been revered for its association with wisdom, truth, and inner vision, making it a revered gemstone in spiritual practices.
It serves as a wearable work of art that resonates with your spirit, elevating your style and spiritual journey to new heights.
I personally hand craft each piece, making them one of a kind and meaningful...Each piece is unique like we all are..
Details;
8mm Lapis Lazuli stone beads
14K Solid Gold Eye Of Ra charm
Gold hematite stone spacers
18K gold plated logo bead
Bracelet size 6.5" on high quality stretchy jewelry cord.Contact me if you need any adjustments
Handmade in USA
Every Ebru Jewelry purchase will arrive wrapped in a gift box
Share