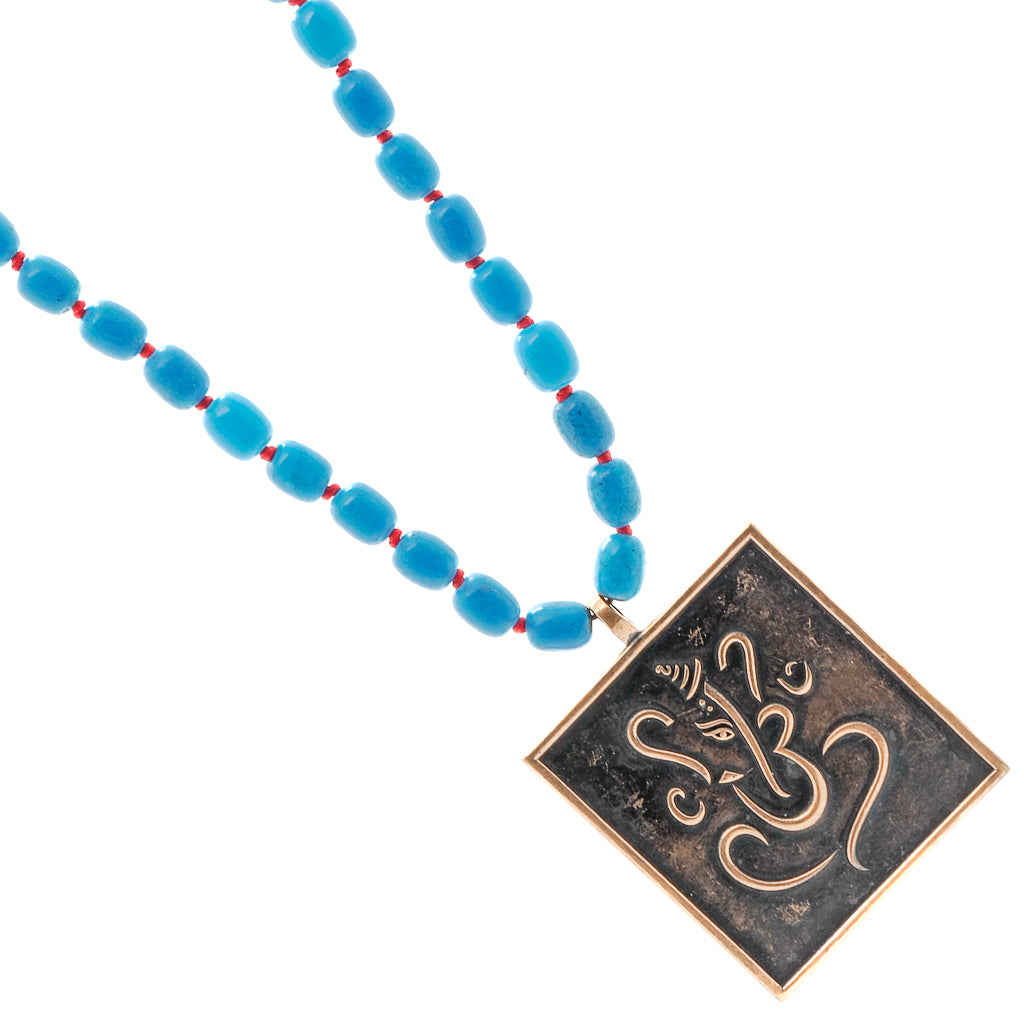 Positive Life Turquoise Beaded Necklace
Positive Mind, Positive Vibes, Positive Life! As simple as this mantra is, we often forget about it and look at everything from the dark side, and the Positive Life Turquoise Beaded  Necklace will serve as a reminder to stay positive in these times. This handmade necklace will remind you to stay in the positive side of life and hopefully protect and guide you and be a light to your loved ones in your life journey.
Turquoise dispels negative energy and is known as a purification stone. It balances and aligns all chakras and helps achieve inner calm and reduce mood swings. It's a unique stone to combat depression and upsetting thoughts and to encourage self realisation. Turquoise can also attract romantic love and is a symbol of friendship.
Ganesha is an elephant god that symbolizes many things. Lord Ganesha is believed to clear the paths in our lives. He symbolizes wisdom, understanding, and intellect that one must have to attain perfection. The wide mouth of Ganesha symbolizes the human desire to enjoy life. His large ears mark him as a perfect person who possesses the ability to listen to others and assimilate ideas. Ganesha's large ears let him listen to prayers and needs of his subjects. The trunk can hold everything in the universe. It also symbolizes the Om mantra which is the sound of the universe. Ganesha is the master of Dharma and guides us through our karma by putting or removing obstacles in our life.
In the back of the handmade pendant is words of Buddha, "What you think you become, What you feel you attract, What you imagine you create."
I personally hand craft each piece, making them one of a kind and meaningful...Each piece is unique like we all are..
Details;
8mm natural turquoise stone beads
Gold color hematite stone beads
Red coral and brass handmade Nepal Bead
Special Ganesha, Om and Buddha's words pendant designed by Ebru
Necklace length 38" with 1 1/2" pendant
Every Ebru Jewelry purchase will arrive wrapped in a gift box
Share