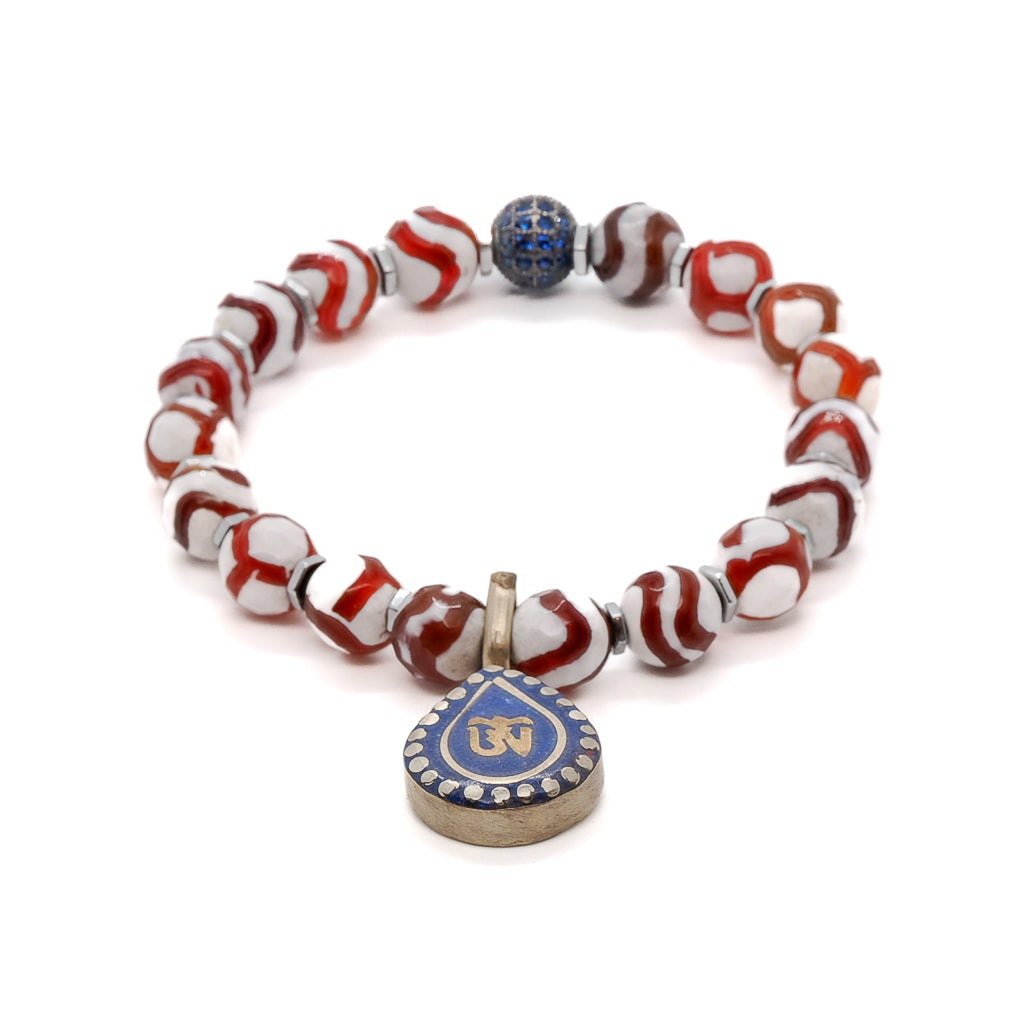 The Mini Mala Yoga Bracelet is a symbolic and visually captivating piece of handmade jewelry that embodies spiritual connection, grounding, and style. Its combination of triped Nepal Agate beads, silver Hematite stone spacers, a handmade Ethnic Om Mantra charm with Lapis Lazuli inlay, and a sparkling Blue zircon accent bead creates a harmonious blend of earthy and celestial energies.

The centerpiece of the bracelet is a handmade Ethnic Om Mantra charm with Lapis Lazuli inlay. The Om symbol is considered sacred in Hinduism and Buddhism, representing the divine and the unity of all creation. The intricate craftsmanship of the charm and the rich blue hue of the Lapis Lazuli inlay add a sense of spirituality and mysticism to the bracelet. The combination of the Om symbol and Lapis Lazuli creates a powerful talisman that promotes inner wisdom and self-expression.
Wear the Mini Mala Yoga Bracelet as a daily reminder of your spiritual journey, or as an accessory to enhance your personal style.
I personally hand craft each piece, making them one of a kind and meaningful...Each piece is unique like we all are..
Details;
8mm Striped Nepal Agate beads
Silver Hematite stone spacers
Handmade Ethnic Om Mantra charm with Lapis Lazuli inlay
Sparkly Blue zircon accent bead
Bracelet size 6.5" on stretchy high quality jewelry cord. Contact me if you need any adjustments
Handmade in USA.
Every Ebru Jewelry purchase will arrive wrapped in a gift box
Share