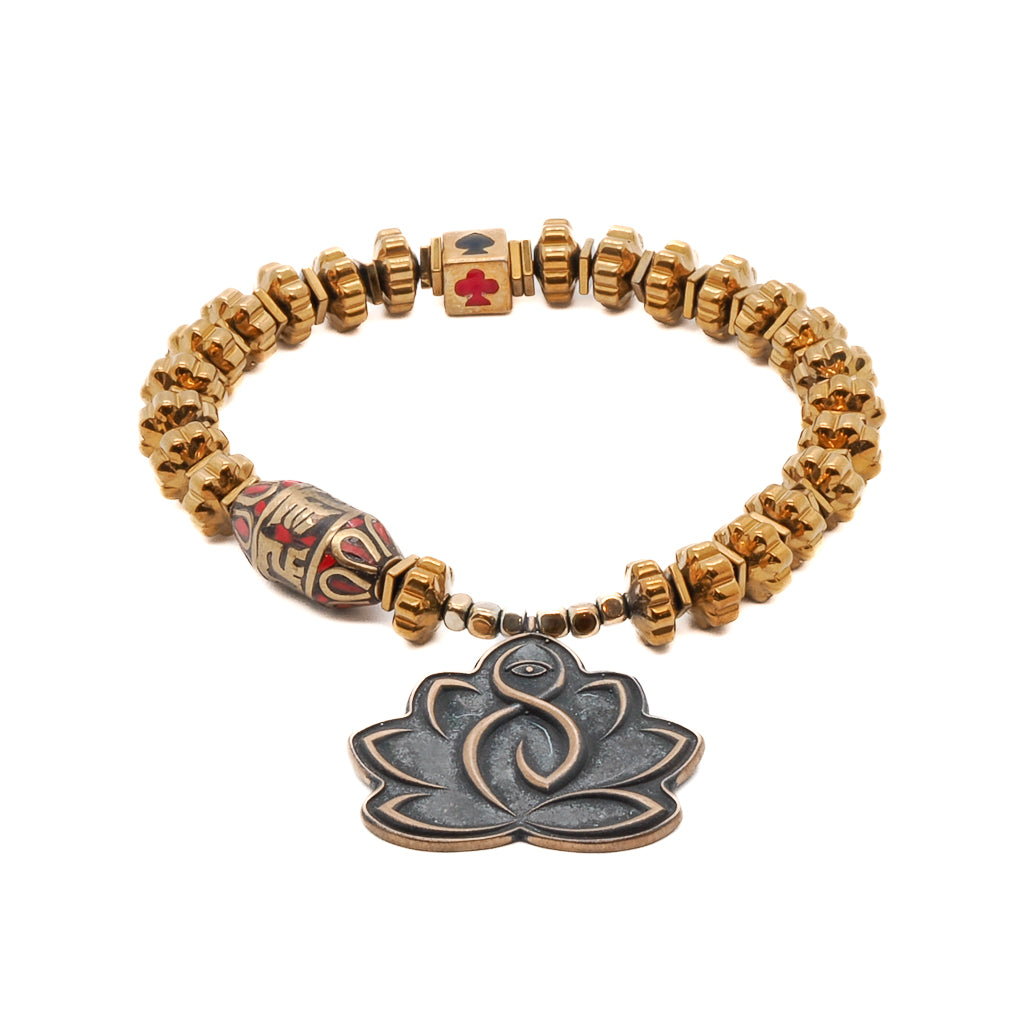 Lotus Flower Mantra Bracelet
The Lotus Flower Mantra Bracelet, a divine and meaningful handmade accessory crafted with the intention of bringing positive energy, luck, and spiritual enlightenment to its wearer. This carefully handcrafted bracelet features a stunning combination of gold color nugget hematite beads, a powerful Om Mani Padme Hum mantra bead, a Lotus Flower charm, and a Buddha quote message charm, culminating in a focal point of a  Sterling Silver 18K Gold Plated Poker Dice Bead.
Enhancing the spiritual significance of this bracelet is the powerful Om Mani Padme Hum mantra bead. This mantra, widely known in Buddhist traditions, is believed to invoke the blessings of compassion and enlightenment. It serves as a reminder to cultivate kindness, understanding, and inner peace on the path to spiritual growth.
Accompanying the mantra bead is the Lotus Flower charm, representing purity, beauty, and spiritual awakening. The lotus flower emerges from the muddy depths to blossom gracefully, symbolizing the journey from darkness to light.
Engraved on its back is the inspiring quote, "Self-control is strength, right thought is mastery, calmness is power." This quote serves as a source of wisdom and guidance, encouraging the wearer to cultivate inner strength, positive thinking, and inner peace.
Whether you seek enlightenment, luck, or a meaningful gift for someone special, this bracelet radiates spiritual energy and serves as a timeless symbol of inner strength and tranquility.
I personally hand craft each piece, making them one of a kind and meaningful...Each piece is unique like we all are..
Details;
Nugget gold color hematite beads

Gold Hematite stone spacers
Nepal Om Mani Padme Hum coral and brass mantra bead
925 Sterling Silver 18K Gold Plated Poker Dice Bead.

Lotus Flower Brass charm with Buddha quote

message

Bracelet size 6.5" on high quality stretchy jewelry cord. Contact me if you need any adjustments
Handmade in USA

Every Ebru Jewelry purchase will arrive wrapped in a gift box
Share