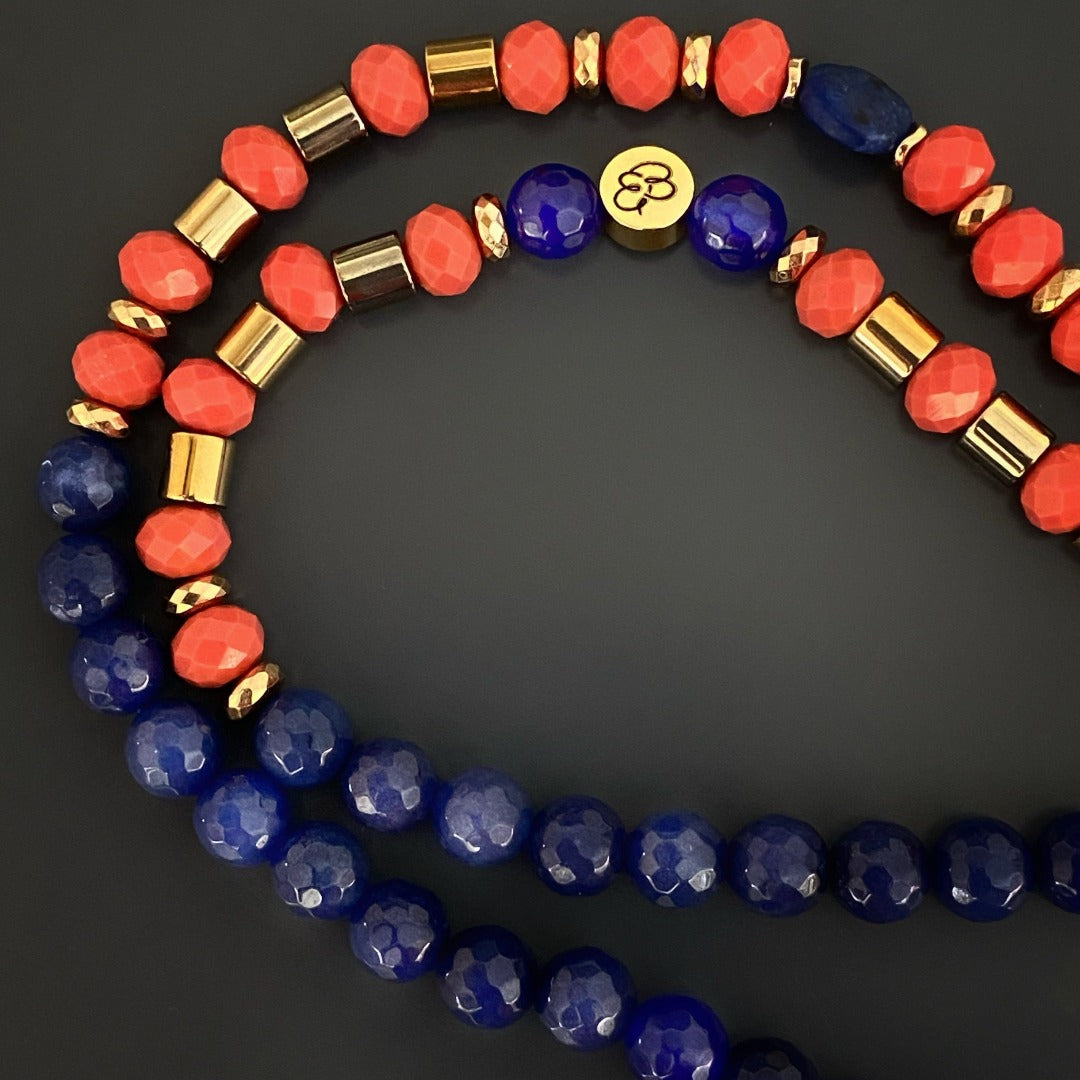 Lotus Flower Mandala Beaded Necklace
This Lotus Flower Mandala Beaded Necklace is a beautiful handmade piece that will aid and motivate you in your spiritual journey. The Lotus is one of the eight auspicious symbols of Buddhism. Buddhists revere this gorgeous flower that blooms in muddy waters which symbolizes the journey of rising above the murk of our lives to achieve enlightenment. This meaningful symbol comes together with gorgeous, vibrant Lapis Lazuli and Blue Agate beads in this unique piece of art.
Lapis Lazuli is a vibrant blue stone that's commonly worn for protection. This stone resonates with the throat and third eye chakras, bringing the wearer greater self knowledge, and encourages honesty and compassion. Therefore it helps with finding inner peace and encouraging confidence and creativity.
Blue Agate is a deeply calming stone that brings a great sense of tranquility and peace. It can also aid with neutralizing anger and verbal communication of thoughts and feelings, helping the wearer with their relationships with themselves and others. These crystals are great for finding your inner peace and the power to speak your truth.
I personally hand craft each piece, making them one of a kind and meaningful...Each piece is unique like we all are..

Details;
8mm Matte Blue Lapis Lazuli Beads.
6mm Orange color faceted crystal beads.
Large Tube shape Blue Agate Bead.
Gold color Hematite Stone beads and spacers.
Gold color Hematite Stone Buddha beads.
Gold Plated Ebru jewelry logo bead.
8 mm Blue Jade stone beads.
925 Sterling Silver on rose gold plated Lobster Clasp 1''
Double sided Swarovski Crystals
925 Sterling silver on 18K Rose gold plated large Lotus Flower Pendant 2''
Necklace Length is 35''
Handmade in USA
Every Ebru Jewelry purchase will arrive wrapped in a gift box
Share