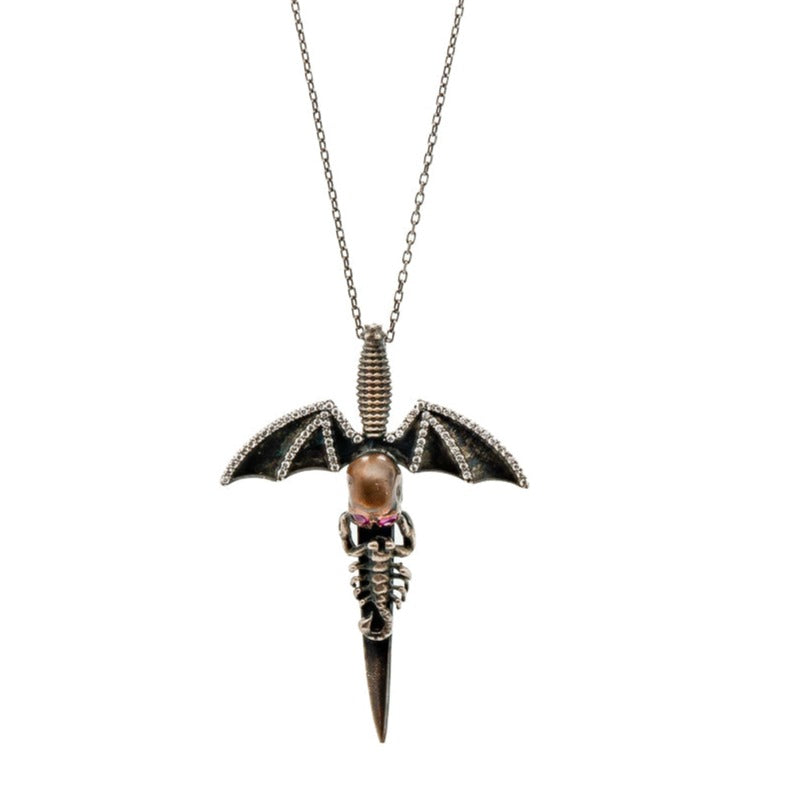 Handmade Silver Chain Skull Necklace
The Handmade Silver Skull Necklace is the perfect handmade accessory for those who appreciate unconventional and extraordinary designs that reflect their bold and independent spirit.
This necklace showcases meticulous craftsmanship and features a handmade skull pendant made from 925 sterling silver, rhodium plated for added durability and shine. The pendant is adorned with striking details, including bat wings, and features ruby stones for the skull eyes, adding a touch of fiery brilliance.
The centerpiece of the necklace is the handmade skull pendant, carefully crafted with intricate details that bring it to life. The skull's design is unique, one-of-a-kind, making it a truly exceptional piece of jewelry.
Wings serve as a reminder of the mysterious and transformative nature of life and symbolize freedom and protection.To further enhance the pendant's allure, ruby stones are meticulously placed as the eyes of the skull. Rubies are known for their deep red color, symbolizing passion and strength.

I personally hand craft each piece, making them one of a kind and meaningful...Each piece is unique like we all are...

Details;
925 sterling silver chain, rhodium plated
925 sterling silver, rhodium plated, ruby stone handmade skull pendant
Zircon stones
Necklace length 24" with 2.5" pendant
Pendant height 2.5'' width h 2''
Handmade in USA
Every Ebru Jewelry purchase will arrive wrapped in a gift box
Share