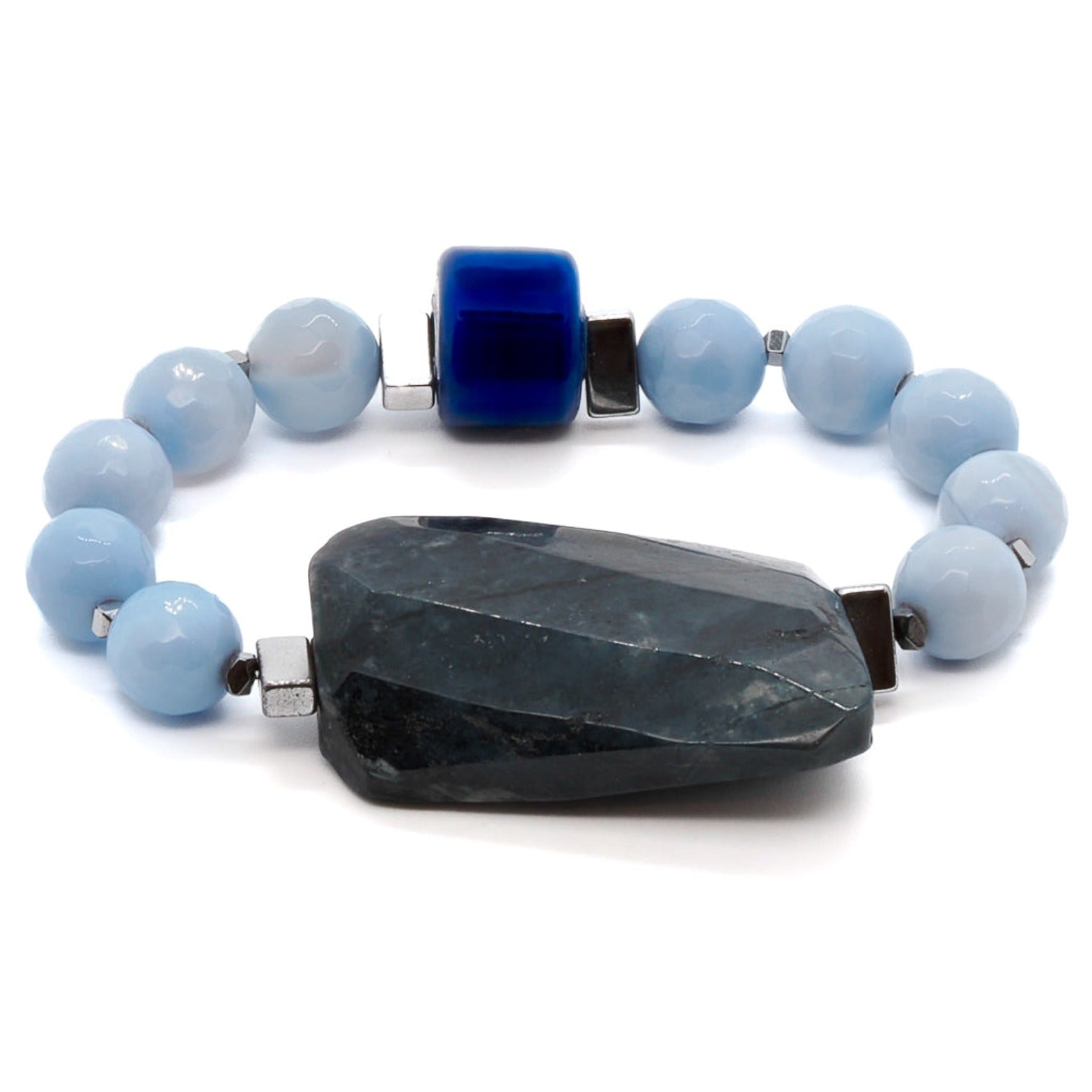 The Blue Sky Bracelet is a truly unique and stunning piece of handmade jewelry that combines the soothing energy of blue lace agate, the grounding properties of silver hematite, and the nurturing qualities of jasper stone. Handcrafted with care, this bracelet is not only a stylish accessory but also a source of healing and positive energy.

Blue lace agate is a calming stone that promotes tranquility and inner peace. Its gentle energy helps to reduce anxiety, ease tension, and promote a sense of harmony within oneself. It is also known for its ability to enhance communication, allowing one to express their thoughts and feelings with clarity and compassion. Blue lace agate is a wonderful stone for promoting healthy relationships and facilitating open and honest communication.

Silver hematite, with its metallic luster, adds a touch of elegance to the handmade bracelet. Hematite is a grounding stone that helps to balance and stabilize energy. It promotes a sense of calm and centeredness, making it an excellent stone for stress relief and emotional balance. Hematite also enhances mental clarity and focus, supporting quick thinking and problem-solving abilities.
I personally hand craft each piece, making them one of a kind and meaningful... Each piece is unique like we all are...
Details;
Light Blue Lace Agate Stone Beads
Silver Hematite Stone Beads
Raw Jasper Stone
Bracelet size 6.5" on high quality stretchy jewelry cord.

Contact me if you need any adjustments

Handmade in USA.
Every Ebru Jewelry purchase will arrive wrapped in a gift box
Share