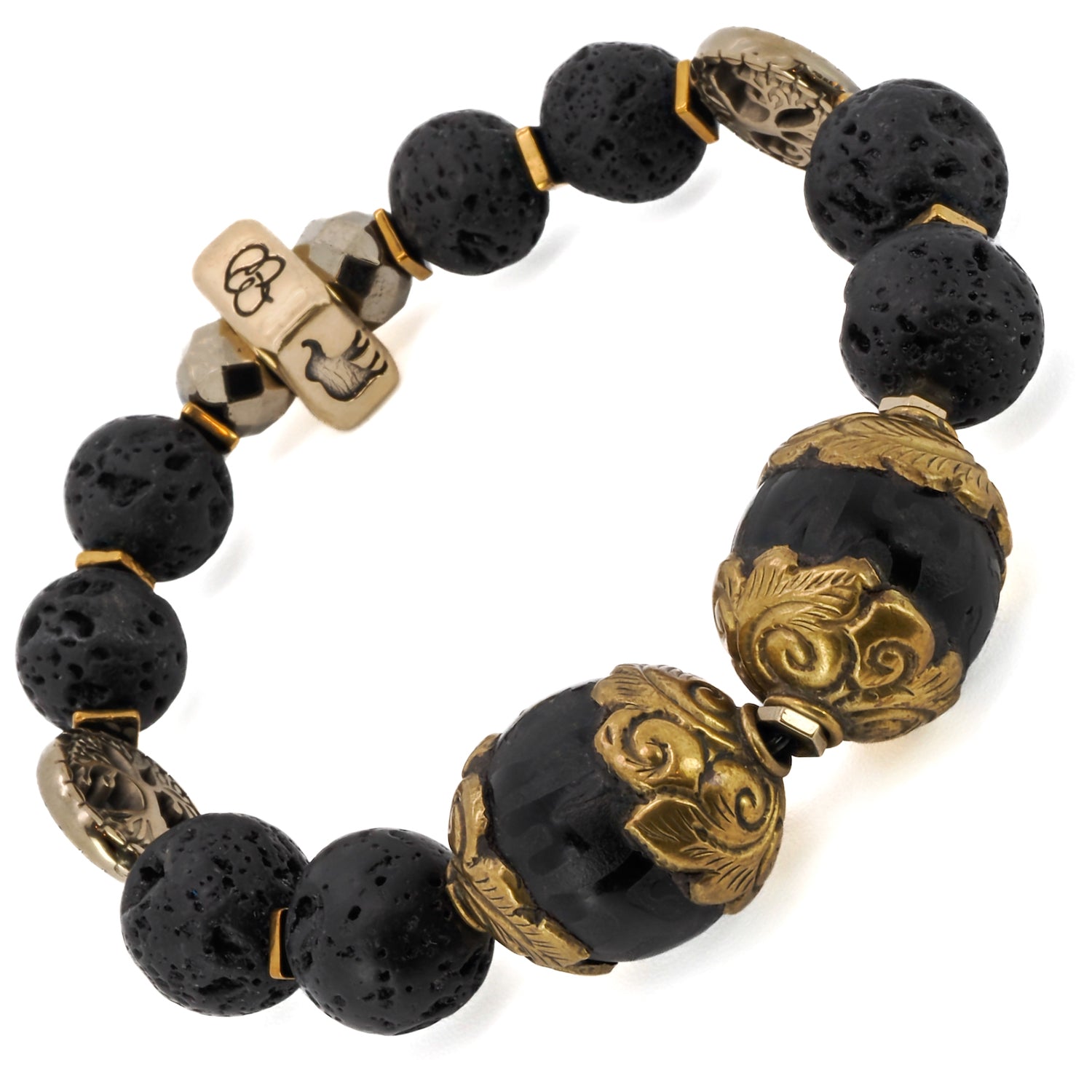 Black Nepal Talisman Bracelet
The Black Nepal Talisman Bracelet is a stunning and meaningful piece of handmade jewelry that offers both spiritual and aesthetic benefits. Perfect for anyone who wants to add a touch of protection, positive energy, and beauty to their daily life.

This handmade bracelet features black lava rock stones, which are known for their grounding and stabilizing properties. These stones are believed to provide strength and courage during times of change and transition.

In addition to the lava rock stones, the bracelet also includes handmade Nepal mantra beads. These beads are inscribed with sacred mantras that are believed to offer protection, peace, and positive energy. The mantra beads are complemented by hematite stone life of tree beads, which symbolize growth, strength, and stability.

The handmade bracelet also features a bronze bead with an evil eye, elephant and hamsa symbols. The evil eye is a symbol of protection against negative energy and bad luck, while the hamsa is a symbol of good luck, happiness, and fortune. The elephant is also considered to be a powerful symbol of strength, wisdom, and good fortune.

Wear the Black Nepal Talisman Bracelet to protect yourself from negative energies and to invite good fortune and positive energy into your life.

I personally hand craft each piece, making them one of a kind and meaningful... Each piece is unique like we all are...
Details;
12mm Black Lava Rock Stone beads
10mm Black Lava Rock Stone Beads
Hematite stone Tree Of Life bead
Gold color hematite stone spacers
Nepal mantra beads
Bronze bead with Evil Eye,Elephant and Hamsa symbols
Bracelet size 6.5" on high quality stretchy jewelry cord.
Contact me if you need any adjustments.

Handmade in USA.
Every Ebru Jewelry purchase will arrive wrapped in a gift box
Share