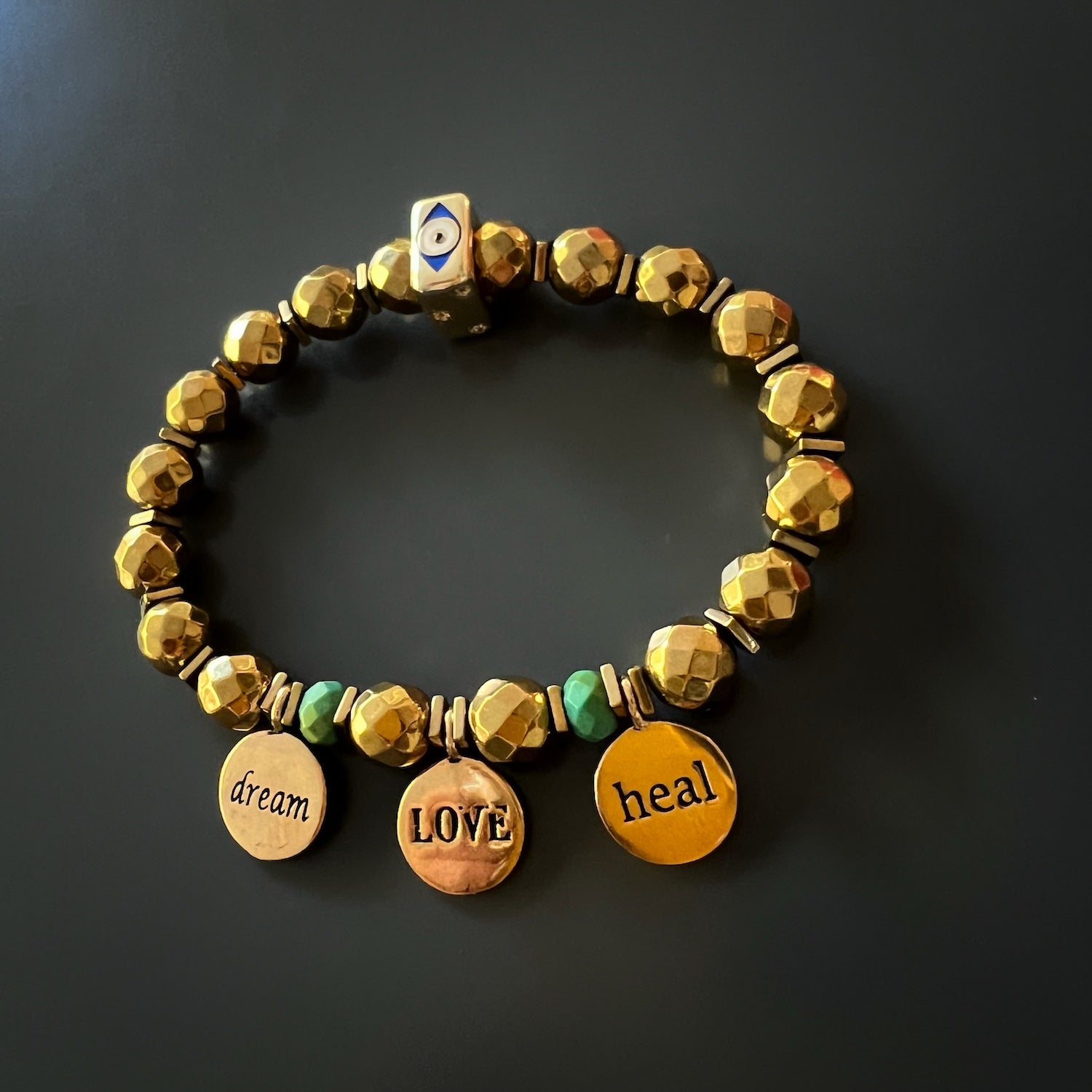 Best Wishes Symbols Beaded Bracelet
The Best Wishes  Symbols Beaded Bracelet is the perfect handmade accessory to remind you of your inner strength and resilience. This elegant piece features delicate bronze letter charms that spell out "dream", "love", and "heal". Each charm is a powerful reminder to keep pushing forward, to love deeply, and to never give up hope.
The Hamsa charm, also known as the Hand of Fatima, is a symbol of protection and good luck in many cultures. It is said to ward off evil and negative energy, and bring peace and blessings to the wearer.
The Evil Eye bead is another powerful symbol of protection. This ancient talisman is believed to reflect negative energy back to the sender and protect the wearer from harm.
The elephant charm is a beloved symbol of good fortune, power, and strength. It is also associated with loyalty, companionship, and unity, making it the perfect addition to this bracelet's message of hope and resilience.
The grounding power of hematite adds an extra layer of strength to this bracelet. Known for its ability to stabilize and balance energy, hematite helps to calm the mind and promote a sense of inner peace.
The Best Wishes Symbols Beaded Bracelet the perfect handmade accessory for anyone in need of a little extra strength, hope, and positivity in their life.
I personally hand craft each piece, making them one of a kind and meaningful. Each piece is unique like we all are...
Details;
8mm Faceted gold color hematite stone beads
4mm Turquoise stone beads
925 Sterling silver gold plated bead with blue enamel elephant, zircon Hamsa and cobalt enamel Evil eye symbols
Bronze dream, love and heal charms
Bracelet size 6.5" on high quality stretchy jewelry cord.

Contact me if you need any adjustments.
Handmade in USA.
Every Ebru Jewelry purchase will arrive wrapped in a gift box
Share