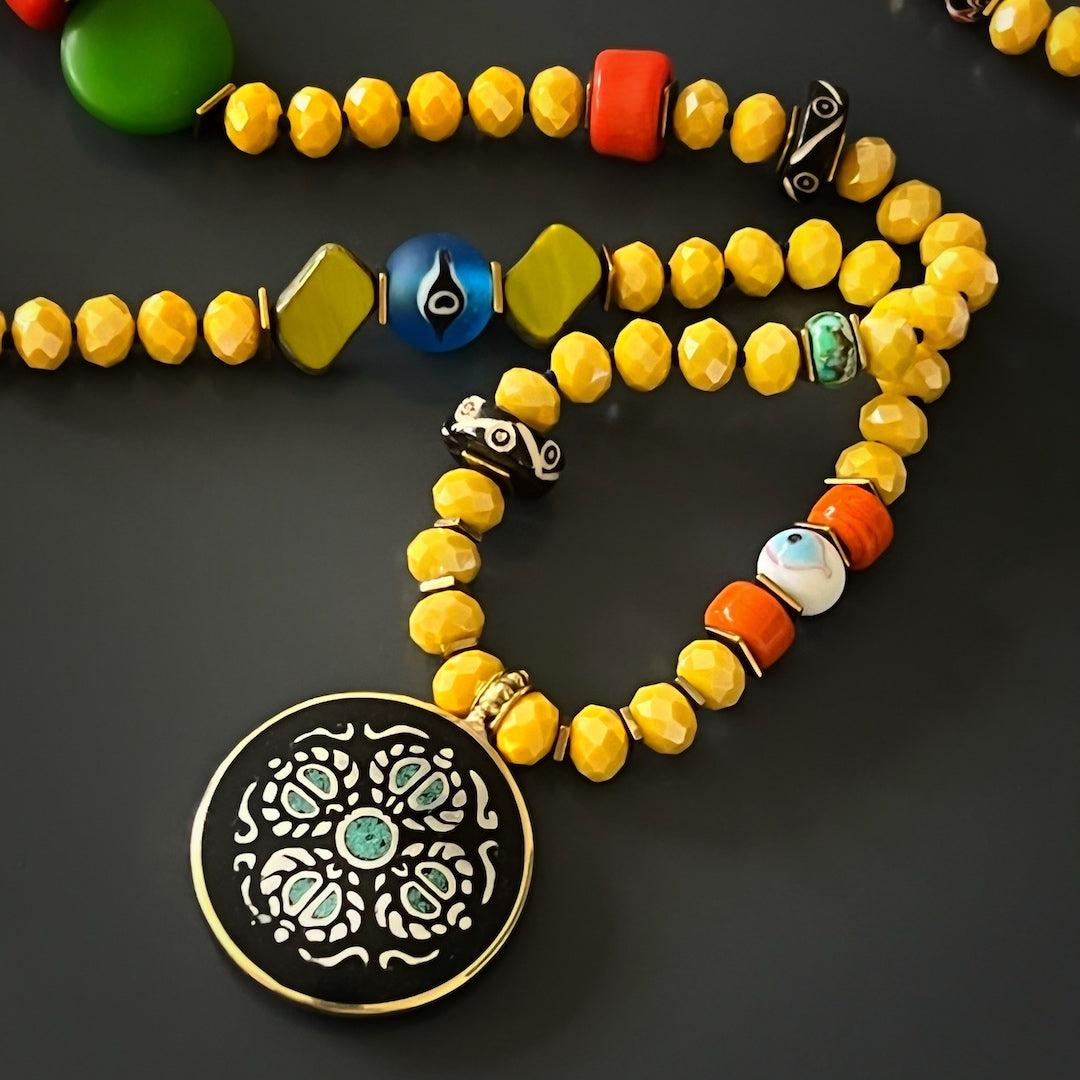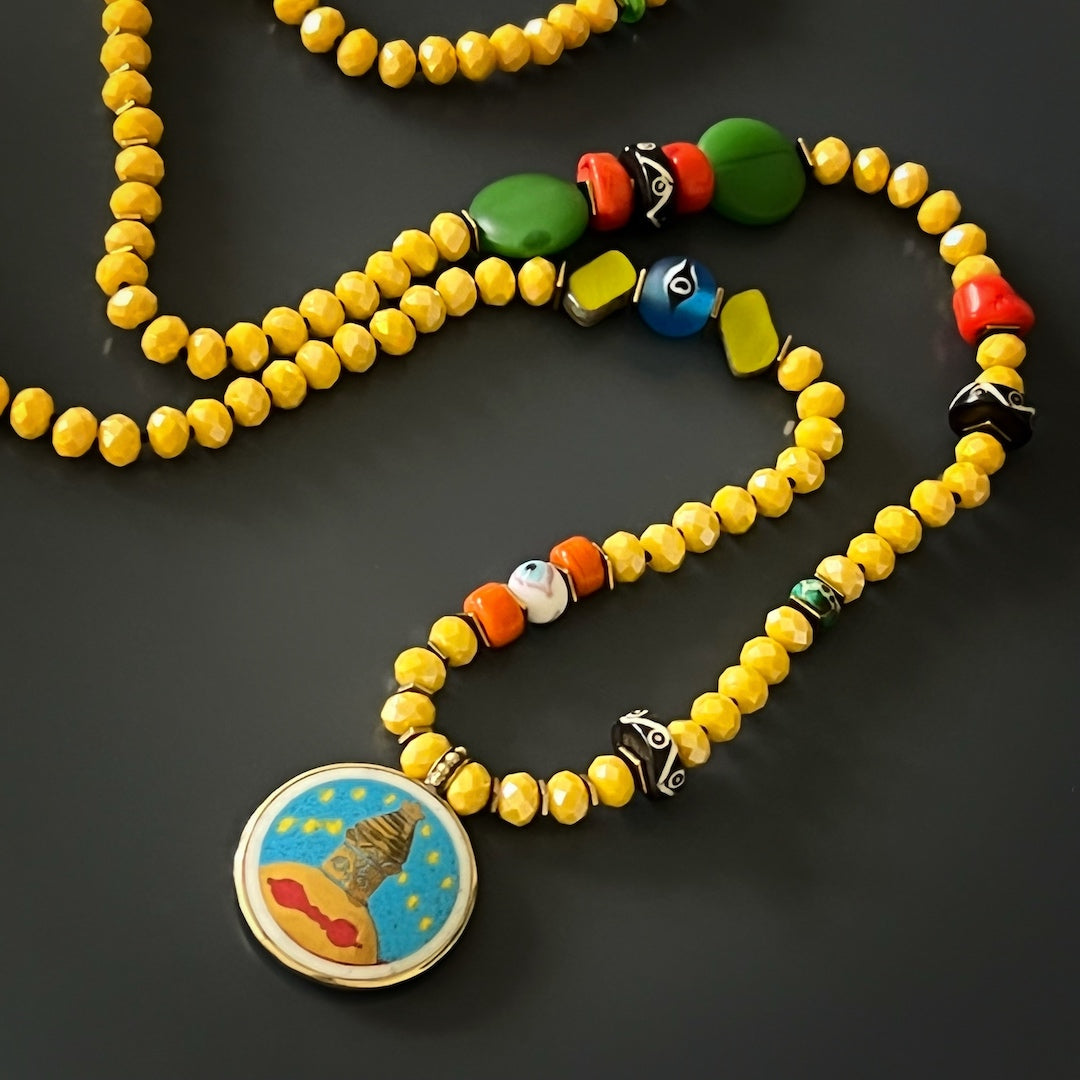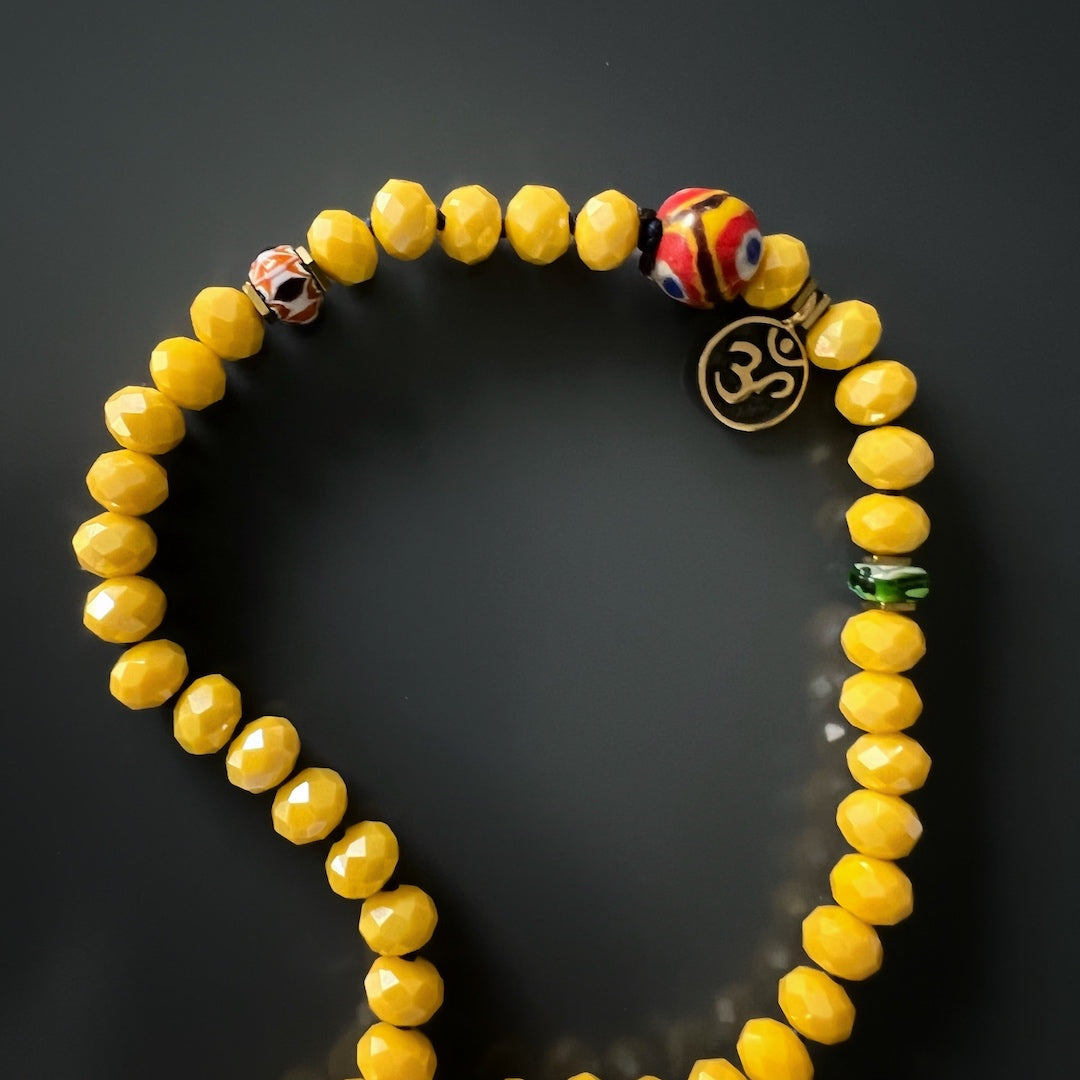 The Yoga Serenity Necklace is the perfect piece to brighten up your life. Perfect for yoga and meditation lovers, I adorned this handmade necklace with the energy of bright colors, Om Mantra, Buddha Eyes and evil eye beads for all the spiritual energy you need. Life is too short to live in black and white, treat yourself to this unique vibrant piece that radiates love and good vibes. 
Buddha Eyes are enriched with spiritual aura. The two eyes symbolize the eyes that see the material world, and are called the outer eyes. The third eye symbolizes the eye that sees the inner world, also called Dhamma, and is also known as the Eyes of Wisdom or the urna. The eyes of Buddha symbolize the all seeing ability of the Buddha. In Buddhism, it's believed a person is wise if they can see past the material world and see into wisdom, kindness and enlightenment. Buddha eyes remind us to see past greed, hatred and ignorance and not be blinded by our desires.
The Om mantra is a sacred mantra known as the sound of the universe. The vibrations of the Om sound is said to energize all chakras and help one connect with their Divine Self. Om is said to be a direct expression of God, so it makes prayers more effective by increasing pranic energy.
The Evil Eye bead is a prominent symbol in Turkish and many other cultures, and is highly protective. Evil Eye is also called nazar. Evil Eye beads reflect ill intent and jealousy from the 'evil eye' back to the person thinking of it, hence protecting the wearer. They also bring good luck.
I personally hand craft each piece, making them one of a kind and meaningful...Each piece is unique like we all are..
Details;
7mm yellow crystal beads

African glass disk beads in green

Nepal ethnic beads

Colorful African beads

Glass evil eye beads

Orange and green rondella beads

Hematite stone spacers

Bronze Om mantra charm

Nepal silver double sided Buddha eyes and mandala pendant

Flat green glass beads

Necklace length 42" with 1 1/2 inch pendant
Handmade in USA
Every Ebru Jewelry purchase will arrive wrapped in a gift box
Share