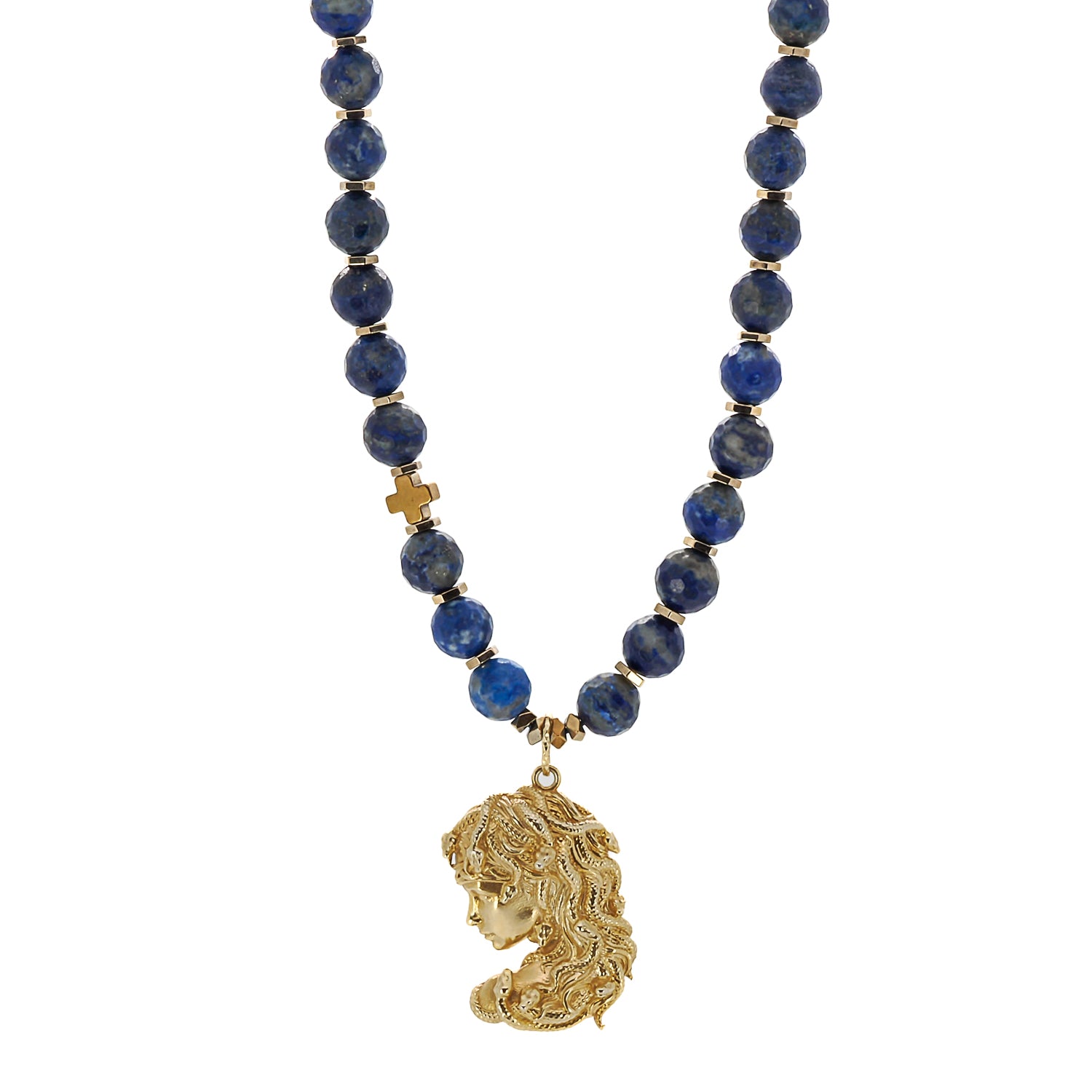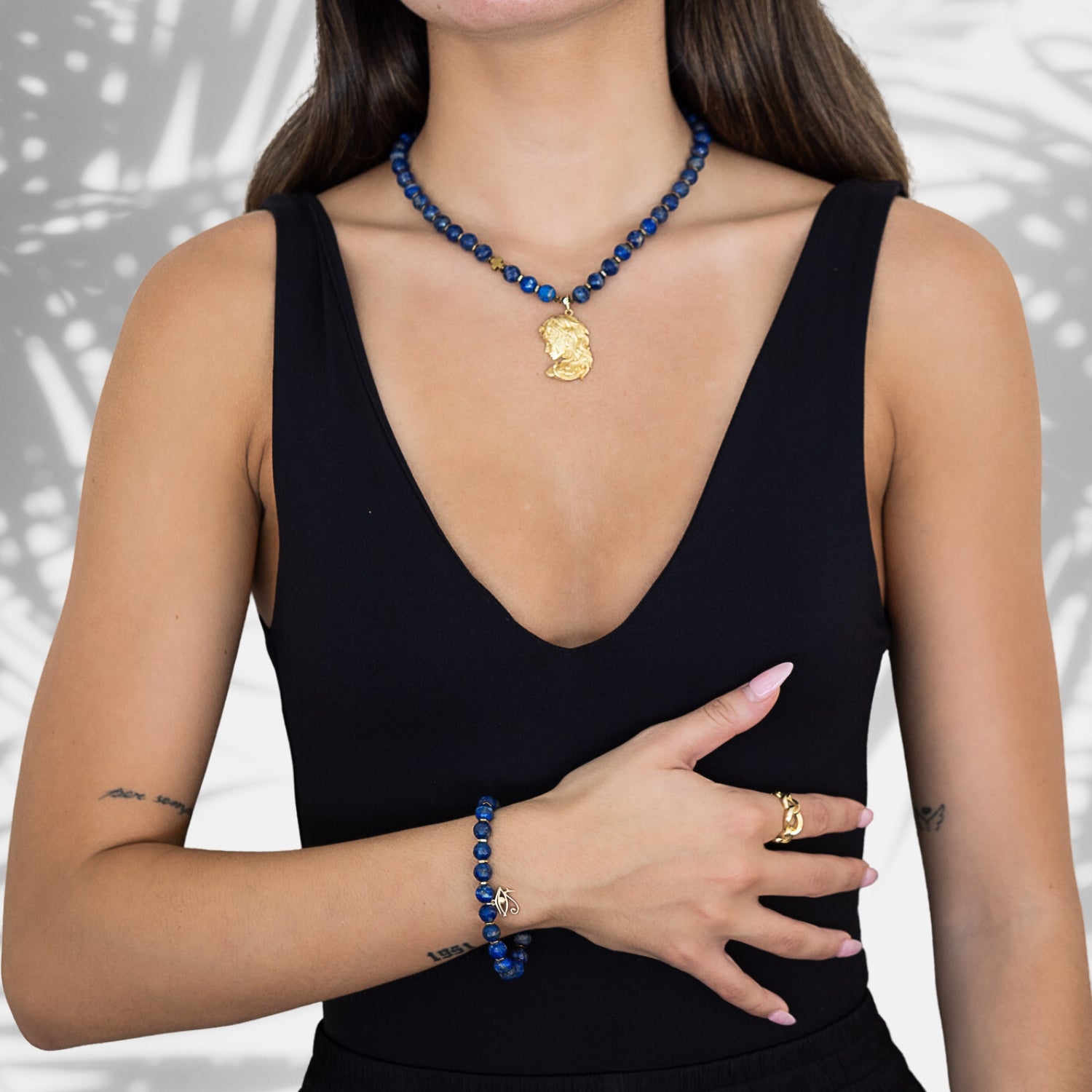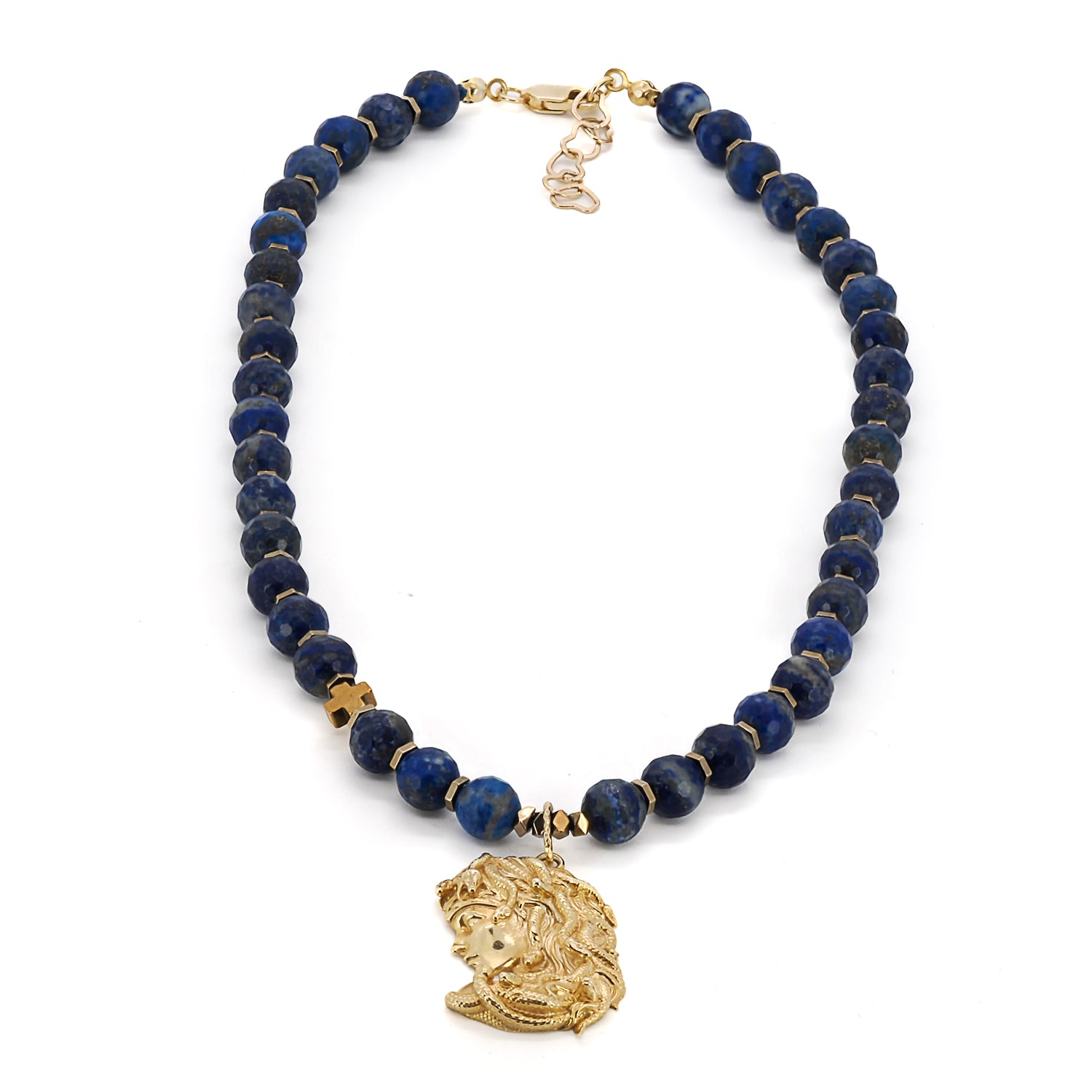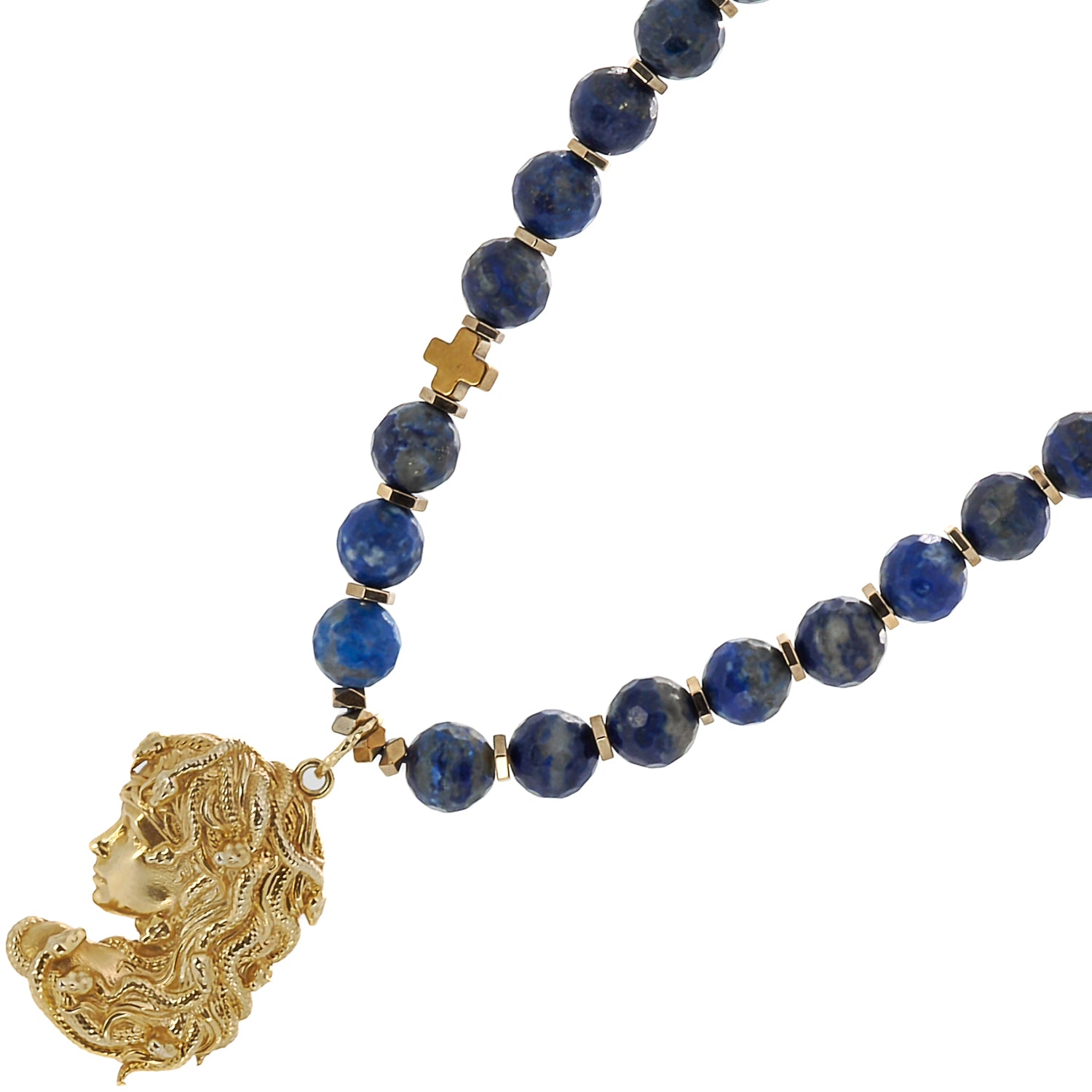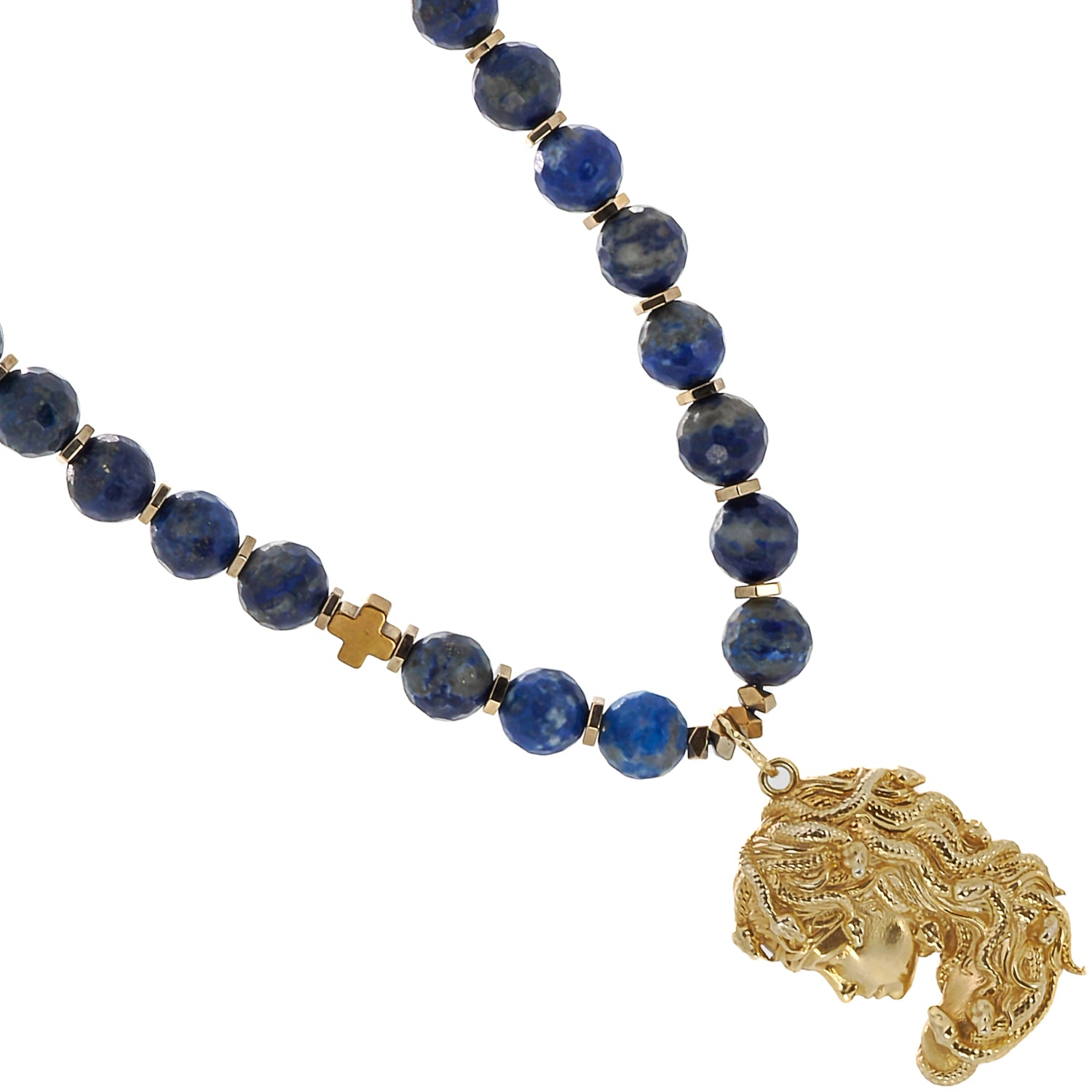 Medusa Lapis Lazuli Necklace
Medusa Lapis Lazuli Necklace, a true masterpiece that exudes elegance and individuality. This beautiful handmade choker necklace is a harmonious blend of luxurious materials and intricate design, making it a standout piece in any jewelry collection.
At the heart of the necklace, a handmade Medusa pendant takes center stage. Expertly crafted from sterling silver and plated with 18k gold, this pendant is a true work of art. The intricate detailing captures the mesmerizing allure of Medusa, a symbol of beauty and strength from ancient Greek mythology.
This unique necklace is adorned with lapis lazuli stone beads, renowned for their deep blue color and enchanting flecks of golden pyrite. These beads are carefully selected for their patterns, resulting in a necklace that is truly one-of-a-kind. The lapis lazuli beads are interspersed with gold hematite stone spacers, which add a touch of opulence and create a balanced composition.
This handmade necklace is not only a beautiful adornment but also a reflection of individuality and personal style. It celebrates the wearer's unique taste and appreciation for high-quality craftsmanship. Whether worn on its own as a statement piece or layered with other necklaces for a more personalized look, the Medusa Lapis Lazuli Necklace is sure to make a lasting impression.
I personally hand craft each piece, making them one of a kind and meaningful...Each piece is unique like we all are..
Details;
8mm Lapis Lazuli stone
Gold color hematite stone spacers 
Sterling silver on 18K gold plated pendant
18K Gold plated heart shape extender 1''
Necklace length 16" and 1.2'' Pendant
Pendant height 1.2'' width 0.8''
Handmade in USA
Every Ebru Jewelry purchase will arrive wrapped in a gift box
Share