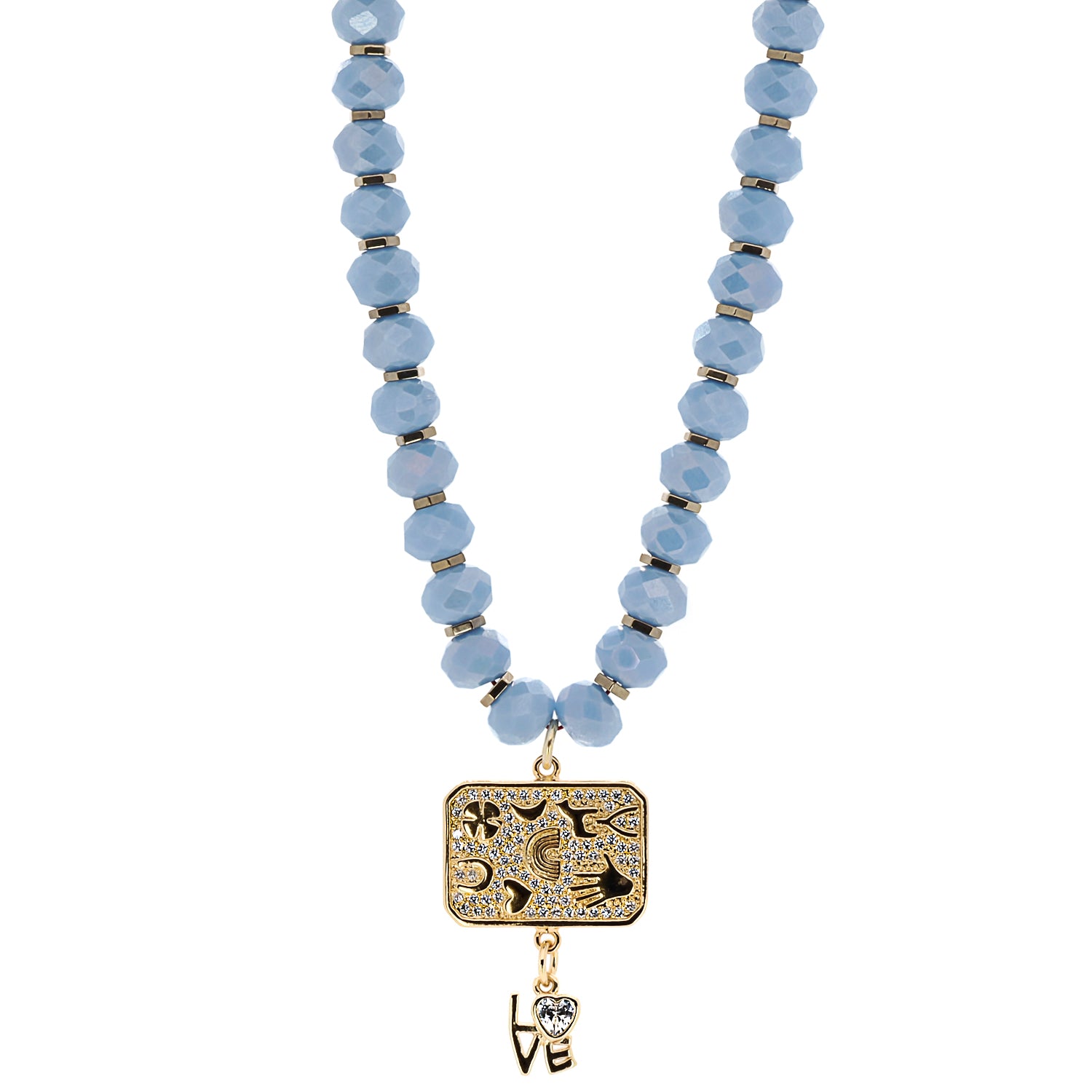 Magical Symbols Love Choker Beaded Necklace
The Magical Symbols Love Choker Beaded Necklace it's a statement of your desires and intentions. Whether you wear it for a special occasion or as a daily affirmation of love and positivity, this choker necklace is designed to be a cherished part of your jewelry collection.
Dangling from this enchanting strand of blue crystals is an 18k gold-plated pendant adorned with CZ diamonds. The pendant is a masterpiece of intricate design, featuring an array of magical symbols that represent luck, protection, and positive energy. These symbols serve as a constant reminder that you are surrounded by love and good fortune, providing a sense of security and well-being.
What truly sets this necklace apart is the additional 18k gold-plated love charm, also embellished with a sparkling CZ diamond. This charm radiates the pure and powerful essence of love, reminding you to cherish the love that surrounds you and to attract even more into your life.
Embrace the magic of this necklace as it amplifies your wishes for love and protection. Let it serve as a symbol of your unique and special journey, and share its enchanting beauty and positive vibes with the world. Gift it to a loved one as a heartfelt token of your best wishes for their happiness and well-being, knowing that it carries the magic of love and protection with it wherever it goes.
I personally hand craft each piece, making them one of a kind and meaningful...Each piece is unique like we all are..
Details;
6mm Blue crystal beads
Gold color hematite stone spacers
18K gold plated love charm with Cz diamond 0.5''
18K Gold plated magical symbols pendant with Cz diamonds
Pendant height 1'' width 0.7''
Necklace length 16'' and pendant 1.5'' with love charm

Handmade in USA.
Every Ebru Jewelry purchase will arrive wrapped in a gift box
Share