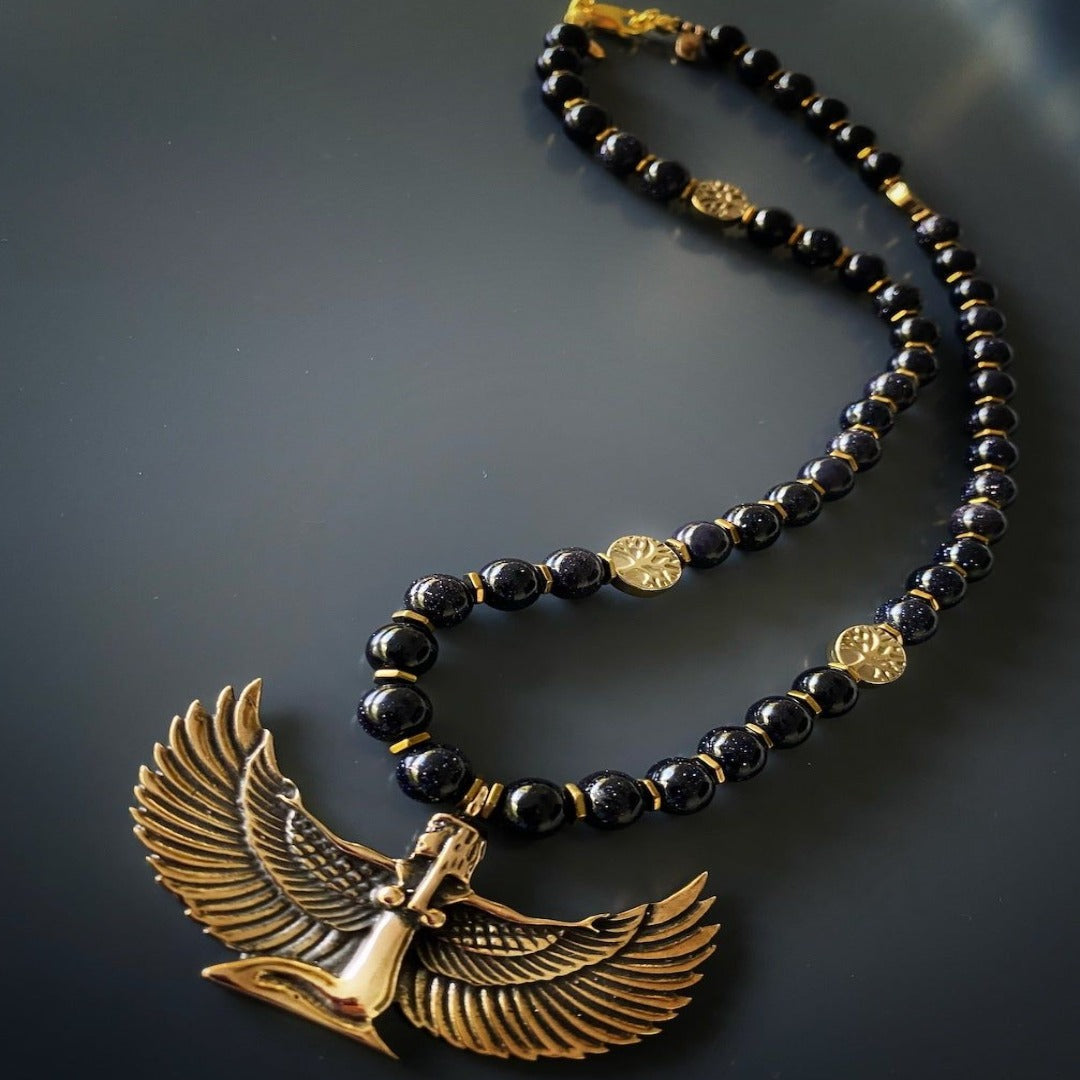 Egyptian Goddess Isis Black Beaded Magical Necklace
The Egyptian Goddess Isis Black Beaded Magical Necklace is simple yet elegant. This handmade necklace combines gold hematite ''Tree Of Life ''beads with a Goddess Isis pendant for a beautiful, striking and healing .
Get in touch with your spiritual side while turning eyes onto you with your stylish look with this unique necklace.
Tree Of Life represents spiritual connection between the earth and heaven.
Isis is the Egyptian Goddess of Healing and Magic. She is also called the Queen of the Throne, and is believed to be a fierce protector of women and control the power of fate itself. Goddess Isis helps you communicate with your divine feminine energy and help you use your healing abilities to their full potential. She is considered the Mother Goddess and a goddess of healing. She supports everyone's quest to reclaim their individual power and take responsibility for their healing journey. Isis shows us our ability to heal ourselves, and to heal others. Isis can help to awaken your healing abilities and intuition, and your ability to communicate with the physical body.
I personally hand craft each piece, making them one of a kind and meaningful...Each piece is unique like we all are..
Details;
6 mm Sand Star Stone Beads
Gold color Hematite Stone Life Of Tree Beads
Gold Hematite spacers
925 solid silver 18K gold vermeil Lobster clasp
Handmade Bronze Pendant
Necklace length 18"
Handmade in USA
Every Ebru Jewelry purchase will arrive wrapped in a gift box
Share